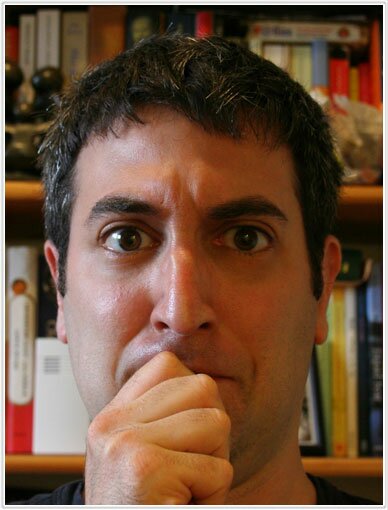 The blurb by Aaron T. Beck, "father of cognitive therapy," on the cover of my advance reading copy of Monkey Mind reads: "Monkey Mind does for anxiety what William Styron's Darkness Visible did for depression." This is high praise indeed. From the author of Muses, Madmen, and Prophets comes a memoir with descriptions of anxiety to which most will relate to, including a full blow-by-blow of the phases of anxiety and how it affects posture and fingernails.
Smith's writing captures the feeling of anxiety so well, one feels their throat close when he describes his panic attacks. Maybe you don't have a hypochondriac brother or therapist mother, but if you've ever felt overwhelmed, you'll relate. Smith describes what happens physically when we don't breathe deeply enough—one of the hallmarks of anxious people. The book made me want to stop torturing my fingernails, try some deep breathing exercises, and get over my anxiety.
There's one part that I want to share with the world, one part of the memoir that everyone needs to read at least once, so as to have the compassion for the self or someone they know suffering from anxiety. I had a couple of friends in mind to share the moment with as soon as I started reading it. In this scene Smith describes what's happening to him physically when he starts to panic on the way to therapy during his first session as a freshman in college. He writes in a detached manner about the body, as if he were a doctor fascinated and removed from the experience of anxiety. Yet, just sentences later, he writes about what happened to his body in the moment from the perspective of someone utterly immersed in the experience, drowning in it as the panic takes over his body.
Another feature of the book I enjoyed was his description of the solace of the campus library. I relate to that. Any other library-people out there feel me? All I can say is that while I didn't go to the library to practice breathing techniques as Smith did during his first semester in college, I did lock myself into one of the basement rooms of Dexter Library at Northland College so no one could find me when I needed to be alone to freak out and study. So I spent at least four hours a day in there. In fact, it's become one of my hallmarks of success at a school—when I attended UT-Austin, I went to the library once. I was not happy there. But here at UWM, I practically live at the library, just as I did at Northland. But I have a carrel now!
In these ways, Smith doesn't just write about the signs and symptoms of anxiety: he also shares valuable solutions. From profuse sweating to shallow breathing, he shares his experiences with and solutions for the plagues of anxiety. There's an analogy toward the end of the book that struck me. It's about being in a house on fire, likening that to the physical pain of anxiety. I'll repeat what Smith's therapist said about this metaphorical house-on-fire: don't you want to put the fire out before figuring out what caused it? I'll be giving copies of this book to the people in my life suffering from various fires, counting on Smith's honesty and directness to help them recognize their situation and learn how to recover their health.